Exposure rates of the Dorval Asset Management Range - December 26, 2022
The Bank of Japan surprised investors when it extended the range of fluctuation around its target interest rate for 10-year sovereign bonds. This is a technical move, but has broadly been seen as an initial step on the path to ending the BOJ's ultra-expansionary policy. Meanwhile, central banks in Canada, Australia and the US seem to be coming to the end of their tightening cycle. It would therefore be natural to expect a narrowing in monetary policy differences in 2023, potentially leading to the end of the trend towards a rise in the dollar against most currencies.
Publication of November's household consumption deflator in the US confirms the trends seen in the CPI. The drop in energy prices and the very sharp slowdown in inflation on goods are helping push down overall inflation (cf. chart 1).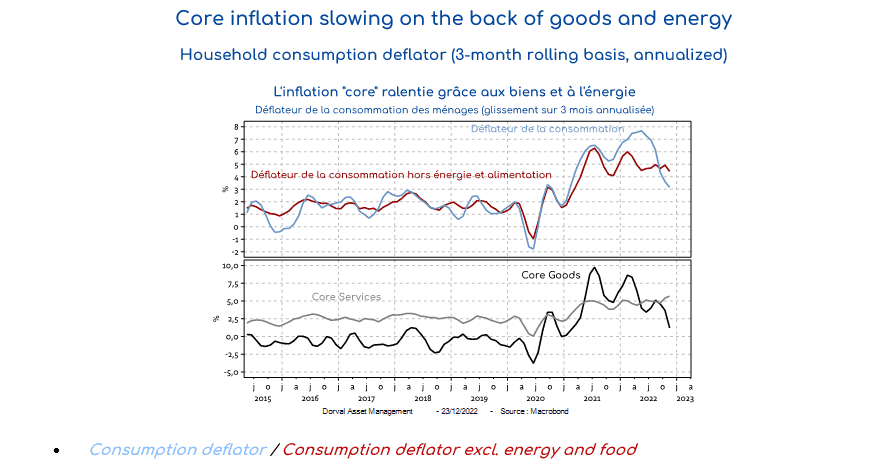 Meanwhile looking to economic activity, showings are very varied. In Europe, some economic indicators are improving from a very low point. In the US, the labor market remains buoyant, but the manufacturing sector is showing signs of weakness (manufacturing output and durable goods orders) while construction is clearly seeing a contraction. Household consumption is holding up for now against pressure from rising prices.
What about monetary policy in this environment? Apart from Japan, investors are expecting a hefty rate hike by June 2023, particularly as the central bank is lagging behind others (cf. chart 2).
Bar a fresh asymmetrical shock, interest rate differentials are therefore poised to narrow in 2023, which should at least halt the dollar's uptrend (cf. chart 3).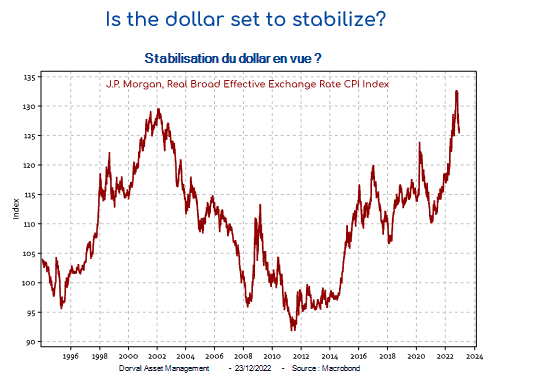 Advertising document. Please refer to all the characteristics and objectives of the fund available in the prospectus and in the key information document before making any final investment decision.